One of my favourite radios is the 'Binatone 5 Star', and my current one has had mids added, and a bleep - but has always been bugged by that classic Cybernet squelch 'pop' - which can spoil it's otherwise excellent performance.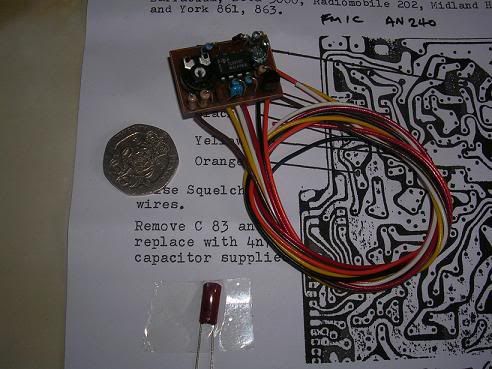 Following a conversation on the radio with 'Bluegrass69' Richard, he dug out a pirated copy of a 'J.D. Custom Electronics' noise squelch module (one of a handful he'd made a few years ago - and of which a few un-populated etched boards still existed in his 'man drawer'). Richard very kindly built one up for me, and posted it along with a photo-copy of the original 'J.D.' instructions leaflet. As you can see, it is not very big at all !
Step one involved swapping C 83 for a 4n7 capacitor, which he kindly included. A simple job, except it was directly beneath the 5-tone bleep I fitted years ago ! Typical

Well that lifted to one side without too much trauma, and the cap was swapped.
The 5-tone Bleep was re installed above it.
Finding a suitable location for the new board, I fixed it into place with a nylon zip tag, and fed the wires round to the underside of the board.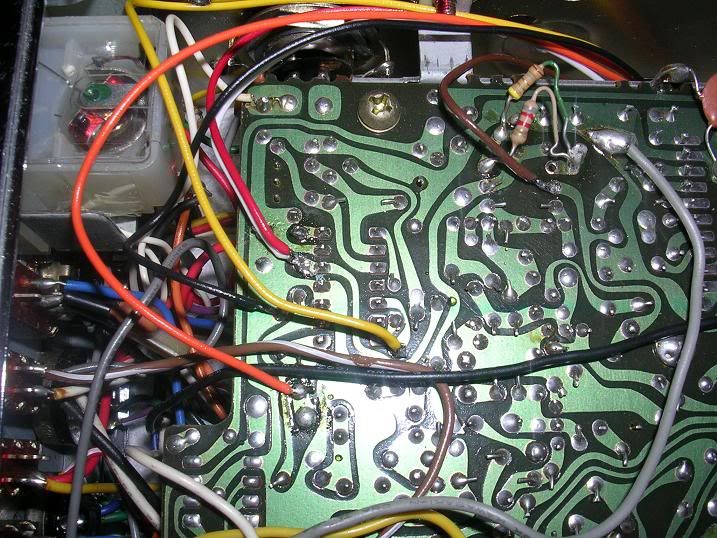 Following the superb instructions illustration, I easily popped the various leads to their places on the board, and adjusted the variable pot as per the advice given.
Wow ! What a difference it made ! With the normal squelch pot set at zero, the noise squelch cuts out all white noise, and only allows transmissions through. And very effective it is too ! But if you turn the squelch pot up a little, the standard cybernet squelch re-engages, and operates normally. The best of both worlds

But here's the 'even better' bit.... it cuts out the 'pop' AS WELL !

So not only has it made the good ole 5 Star an absolute pleasure to use when scanning up and down the channels looking for signals (with Noise Squelch on) ... it also has made it nicer to use in 'normal' mode too.



I'm very happy with it... and a MASSIVE thank you to Richard 'Bluegrass69' for letting me have one.
Cheers matey !
Ugs